Now Leasing For Fall 2023!
With several floor plans available, we have the right home to fit your lifestyle. Browse through our UMN off-campus apartments to find one for you.
Catch yourself with some free time? Why not spend it having a barbeque with friends, grilling on our gas grills, and hanging by the fire pit until the sun goes down? At our apartments near UMN, you'll have what you need to succeed in your studies while being given the space for adventure. 
Make your time at school count by choosing St. Paul student housing that not only meets your needs but exceeds them. Are you ready to start making great experiences?
Sometimes there's nothing quite like your own space, which is why every floor plan at The Pavilion on Berry features a private bedroom. Choose from our two and four-bedroom options and live close to UMN while kick-starting your new life.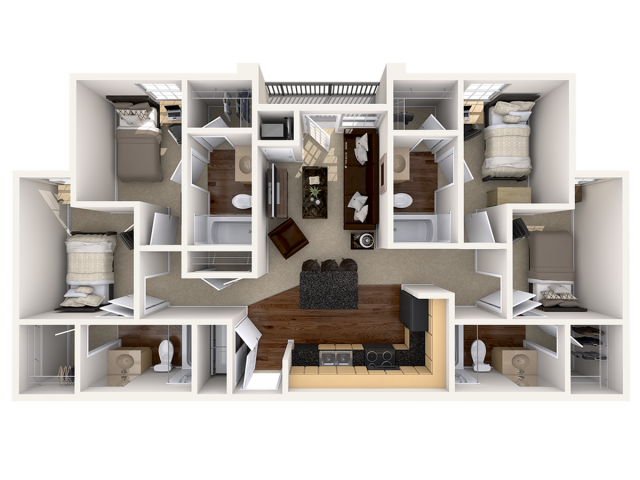 The Pavilion on Berry is the perfect place to live while studying at the University of Minnesota. Why? Because no other place gives you spacious, modern apartments alongside amenities that are designed to make your life more comfortable. And all within beautiful St. Paul, Minnesota.
"My sister and I took a tour with our friend Diana. The place was absolutely beautiful. I cannot express how much these apartment exceeded my expectations, from the rooms itself, the lobby, pool, gym and so much more. Everything is so easily accessible especially for attending students. Great place and would recommend 10/10 " – Google Review
Living in our Pavilion apartments just makes sense. The University of Minnesota's campus is just over a mile away making it easy for you to come and go from classes. Additionally, you'll be just a block from the light rail and the bus stop so you can get to where you need to go. 
Get a glimpse into the fun and exciting life at The Pavilion on Berry. Give us a follow while you're there!